Belleville air quality testing
Do you feel unwell when you are in your own home? Are you fine when you are away from home?
If so, you may have an airborne contaminant that is in the air inside your premises.
If you think you may have diminished air quality, have a professional air quality test completed in your home by an Air Quality Testing professional in Belleville.
Let us know about your problem and request a callback from us:
Certified indoor air quality testing in Belleville
At Air Quality Testing Belleville, we have fully trained technicians to provide accurate air quality testing.
If you think you are having some health issues related to the quality of the air inside your home or workplace, our professionals will give you the answers to your questions.
Hiring an Air Quality Testing professional will take the guess work out of why you are feeling sick inside your home and give you the cause and solutions to fix the air quality problems inside the premises.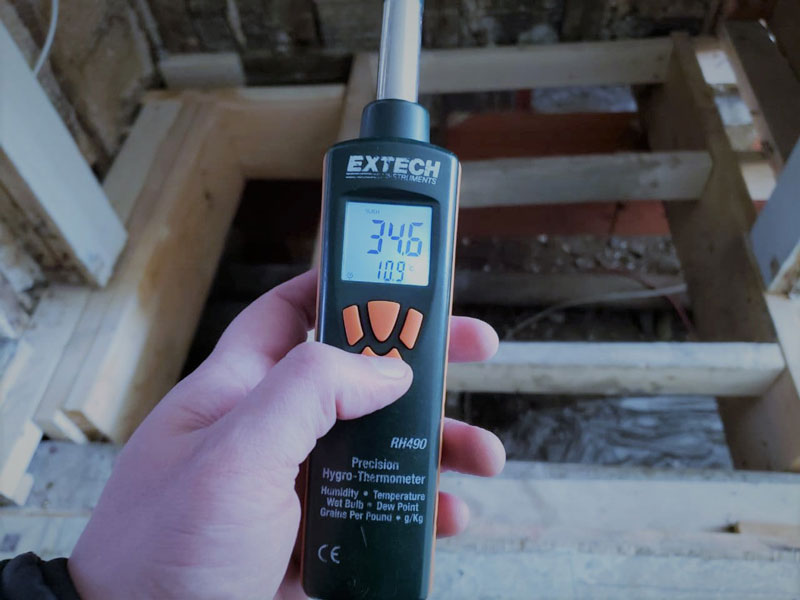 Why choose us?
We provide a full array of services to the residents of Belleville to complete a full spectrum report on the overall health of the building on which the client wants investigated.
We will take air samples for allergens, mold, radon, hazardous gases such as carbon monoxide, dust and other pollutants. If there is an issue, our fully trained field agents and our use of an independent laboratory will find it.
Air Quality Testing Belleville provides full-service sampling and inspections for both residential and commercial buildings and their detailed reports are easy to understand providing both what is causing the issues, and how to remedy the problems.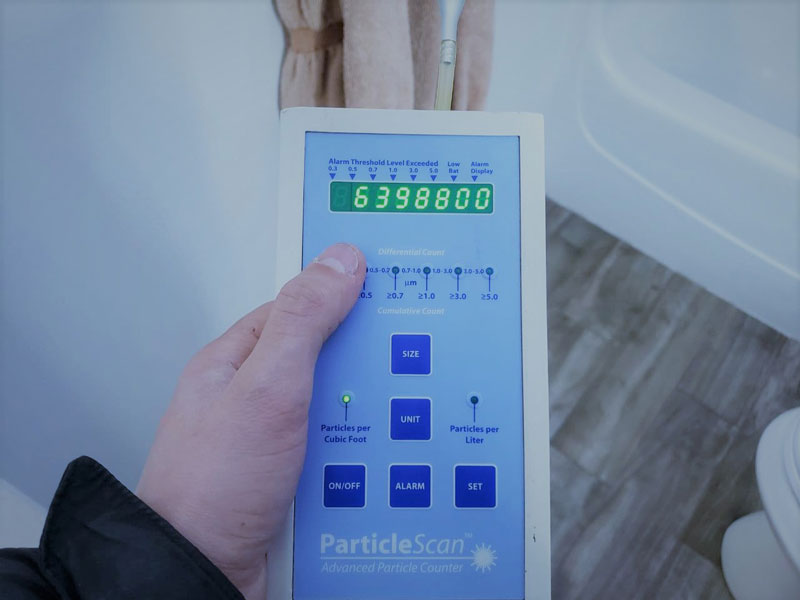 Residential air quality testing
Our residential services include, but are not limited to the following:
Air sampling for mold and asbestos

Moisture measurements

Particle scan for PM2.5 to M10

Identification of potential asbestos-containing materials (ACMs)

HVAC assessment to ensure systems are working properly

Infrared scans of areas vulnerable to moisture intrusion

Odor inspection
Commercial air quality testing
In addition to our residential services, we provide many commercial testing services as well. These include but are not limited to:
An examination of the HVAC system

A thorough check for microbial and/or fungal contamination (e.g., black mold)

An assessment of the particle levels (PM2.5 – PM10 microns)

Identification of potential sources of indoor air pollution (biological and chemical)

Moisture, temperature and relative humidity readings

A thermographic scan of any areas vulnerable to moisture intrusion or heat loss

A check of all walls, ceilings and floors for water damage

Air quality testing from various areas within the office space

Recommendations for remedial action, should it be necessary
What is the air quality in Belleville?
Belleville has moderate air quality. The pollutants that are found in the air can cause a variety of health problems, including respiratory illness, heart disease, and stroke. Belleville's air quality is affected by emissions from automobiles, factories, and power plants.
The main pollutant in the air is particulate matter, which includes both solid and liquid particles in the air. The concentration of particulate matter varies depending on the time of year, with concentrations being higher in the winter due to colder temperatures and less wind. Other pollutants in the air include ozone and nitrogen dioxide.
Places with clean and fresh air in Belleville
There are a few places in Belleville with clean and fresh air:
One example is the Belleville Park, which is located on the east side of the city. The park has a playground, a basketball court, and a picnic area. It also has a large open space where people can walk or jog. The park is well-maintained, and the air is clean and fresh.
Another place with clean air is the downtown business district. The streets are wide and there is a lot of traffic, which helps to keep the air clean.
The commercial area near the interstate has seen a growth in businesses that emphasize sustainability, such as organic farms and recycling centers.
And the residential neighborhoods near the river are adjacent to a nature preserve, which helps to keep the air clean.
Importance of choosing best air quality testing service
Choosing Air Quality Testing Belleville for your testing and remediation services will give you piece of mind that your home is being handled by the best trained people in the industry. They are at the forefront of air quality issues and remedies. They have great experience and knowledge that gives you assurance that you will have your dwelling back to a healthy indoor environment as quickly as possible. With the latest equipment and techniques available today, we are the premier testing company in Ontario and Quebec.
If you need help, testing and remediation of something that is making your building unhealthy, contact us to book an appointment with one of our fully trained professional inspectors. They can provide you with a quote for what services you need performed and a quick turn around time after testing is completed so that you can get your building back to a healthy state.
Reviews by Our Customers in Belleville
FAQ
What is indoor air quality testing?
aqtestingca
2022-03-10T13:53:12+00:00
Indoor air quality testing is testing the air for any number of allergens, irritants or gasses. The test is performed by a trained professional using various pieces of specialized equipment and devices to detect the various contaminants.
How much does an indoor air quality test cost?
aqtestingca
2022-03-22T16:47:02+00:00
This is a difficult question to answer as every testing situation is different depending on what is needed.  The best thing to do is contact the Air Quality Testing Belleville professional in your area and have a free quote provided to you on exactly what would be performed on your premises.
What does an air quality test detect?
aqtestingca
2022-03-10T13:54:21+00:00
Air quality testing can detect elevated levels of various indoor air pollutants. These pollutants can include mold spores, asbestos fibers, various gasses like radon, carbon monoxide as well as other less common gasses like formaldehyde. Air quality testing can also test for rodent infestation, dust issues and various other contaminants.
For a full spectrum of services that we provide at Air Quality Testing, contact our trained professional in your area to discuss what you require, and we will provide a customized solution for your dwelling.
Service Areas
Zion Hill

Phillipston

Wallbridge

Chatterton

Madoc Junction
Moira

Roslin

Chrisholm's Mills

Halston

Blessington

Shannonville