Montreal air quality testing
Going outside shouldn't be the only way to get fresh air. According to the Canadian Lung Association, we spend around 90% of our time indoors. With more and more Canadians working from home, it is essential that your home has fresh, clean air.
We breathe in various air pollutants every day, whether pollen in the outdoor air or exhaust from a nearby car. Although you can't control the air quality outside, you can protect your home's indoor air.
The best way to ensure that your home has clean and breathable air is by scheduling air quality testing in Montreal. Whether you have family members in your house with lung sensitivities or want to know how clean your home's air really is, we can help.
Let us know about your problem and request a callback from us:
Why is air quality testing important?
The primary reason for air quality testing in Montreal is to protect you and your family from potential health hazards. Poor indoor air quality can cause various health issues, including:
Headaches
Nausea or vomiting
Confusion
Respiratory problems
Dizziness
Asthma
Shortness of breath
Heightened allergies
Without adequately testing and treating the air in your home, dust and allergens can quickly accumulate, affecting your family's health. To avoid potential problems, call Air Quality Testing so we can help you protect your home's indoor air.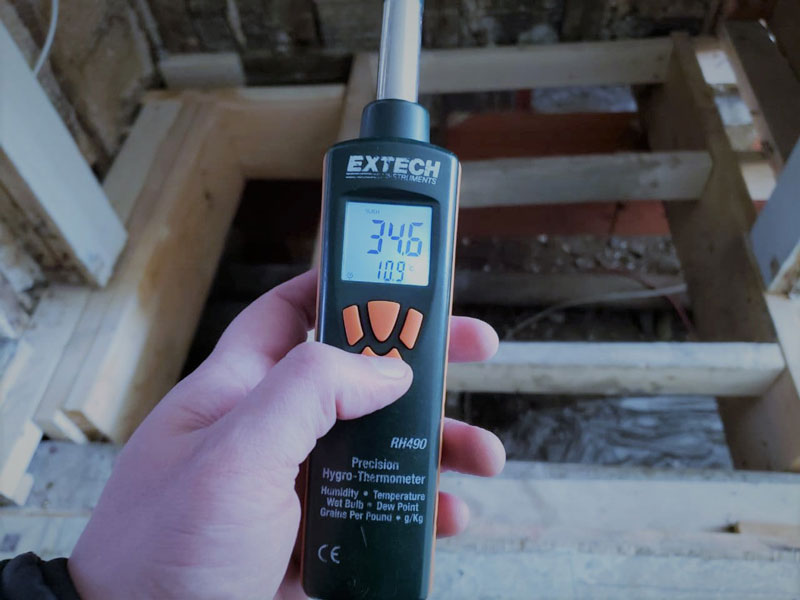 What happens during air quality testing?
Air Quality Testing uses only highly trained and experienced consultants. We understand the importance of maintaining clean indoor air and have the tools needed for professional and accurate testing.
When you schedule air quality testing in Montreal, we provide you with a detailed list of various indoor air quality problems in your home, including:
Mould
Dust
Asbestos
Carbon monoxide
Hydrogen sulphide
Nitrogen dioxide
We will review these factors and other concerns with you and provide professional advice on how to improve your home's indoor air quality. We know that reviewing an indoor air quality report isn't always simple or easy. Our experts will expertly answer your questions and help you devise a plan to improve your home's air.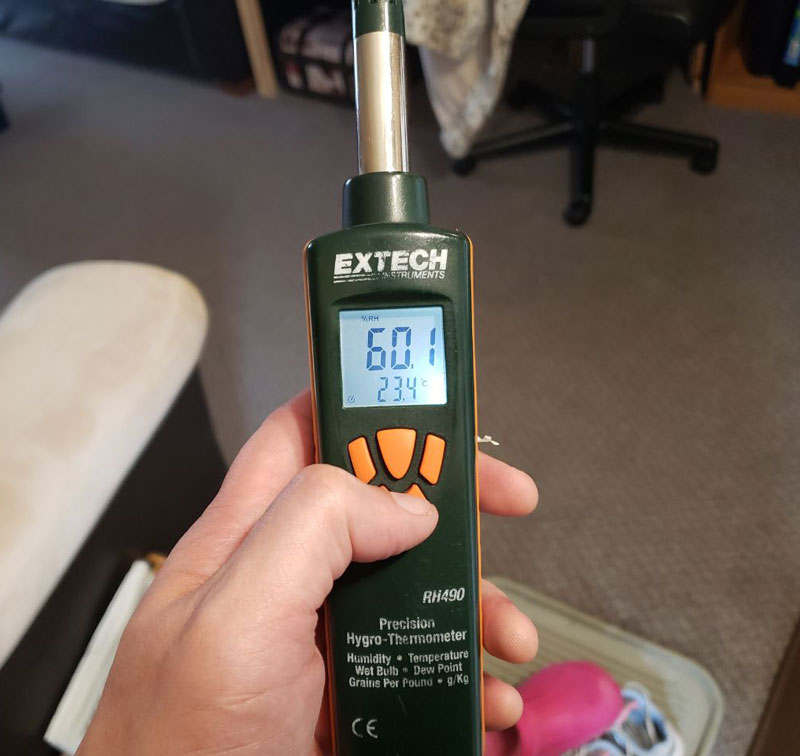 Air quality testing for mold
Mould represents a common culprit for poor indoor air quality. Mould isn't always apparent and can quickly spread throughout your home. Our expert services include air quality testing for mold so we can help you locate and address it quickly.
Air quality testing for asbestos
Asbestos can be detrimental to your family's health. Unfortunately, many Canadians remain unaware of asbestos presence until they start experiencing health issues. With professional air quality testing for asbestos, you can minimize damage and address the problem sooner.
CO and CO2 testing
Unlike mould and asbestos, carbon monoxide (CO) and carbon dioxide (CO2) are invisible and odourless, making them difficult to detect. While CO2 occurs naturally and is not harmful in small amounts, CO, which comes from your home's fuel-burning appliances, can severely impact your health.
Along with asbestos testing, we check your home's CO and CO2 levels to ensure that they pose no health risks.
What is the air quality in Montreal?
The air quality in Montreal is generally good. The main pollutant in the city is ground-level ozone, which is produced when pollutants from cars, power plants, and other sources react with sunlight.
The city has made significant progress in reducing this pollutant in recent years, and the levels are now well below the World Health Organization's guidelines. However, there are still some areas of the city where the air quality is not as good as it could be.
Places with clean and fresh air in Montreal
Montreal is known for its high-quality outdoor air. The city is located in a valley that is surrounded by mountains, which helps to keep the air clean and fresh.  There are many places in Montreal with clean and fresh air:
The parks are a great place to enjoy the outdoors and breathe in some fresh air.
The Plateau-Mont-Royal and Downtown areas have many green spaces, including Mount Royal Park, which is a large urban park in the heart of the city.
Additionally, many of the city's schools are situated near parks, which allows children to have easy access to fresh air and outdoor activities.
Benefits of air quality monitoring in Montreal
Most people assume that the air in their homes is fine because they can't visibly see any pollutants or allergens. Unfortunately, poor air quality isn't always obvious and can go unnoticed for months.
Addressing air quality issues within your home early is crucial to prevent severe health complications. Professional services like monitoring and air quality testing for mould or asbestos have several advantages:
Maintaining a healthy indoor air quality
Finding the source of harmful pollutants
Determining which pollutants or allergens are present in your home
Discovering which areas of your house are more susceptible to poor indoor air quality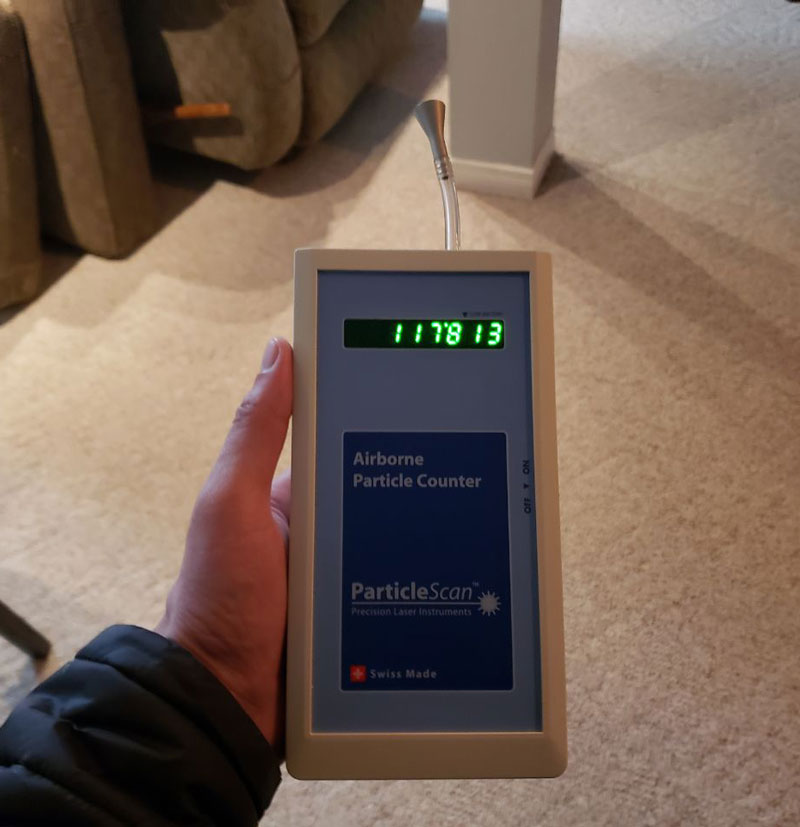 Reviews by Our Customers in Montreal
FAQ
What Are Volatile Organic Compounds?
aqtestingca
2022-04-13T09:41:31+00:00
Volatile organic compounds (VOCs) refer to chemical compounds emitted from motor vehicles, paint, and several other sources. Without proper air circulation, VOCs can cause respiratory problems and eye irritation.
When Should I Test My Home's Indoor Air Quality?
aqtestingca
2022-04-13T09:42:00+00:00
You should schedule air quality testing in Montreal if you notice any of the following:
Strange odours in your home or building
Respiratory symptoms that last longer than two weeks
In addition, you should schedule air quality testing for asbestos and mould if you plan to purchase or sell a new home, break a lease, or need to settle a legal dispute involving health conditions in the workplace.
Service Areas
Youville

La Petite-Patrie

Monkland Village

Hochelaga

Angus

Westmount

Saint-Henri

Gay Village

Sainte-Marie

Montreal West
Little Italy

Côte Saint-Luc

Montréal-Est

Outremont

Griffintown

Ahuntsic

Shaughnessy Village

Côte Saint-Luc

Saint-Leonard